Integrity Fab & Machine Inc. took the initiative to expand its capabilities in order to better serve its current customers and to acquire new ones. To accomplish this, the company needed a machine tool capable of handling larger parts. The company selected a FEELER FV-2218 Double Column Bridge Mill. According to Rollie Koutz, Integrity Fab Co-Owner, the FEELER Bridge Mill was selected because of the strong support offered from Methods Machine Tools, Inc. in sales, applications and service. Methods is the exclusive North American importer of FEELER machine tools. The FEELER FV-2218 Bridge Mill has travels of 85" x 71" x 35" (XYZ) and a 15,000 lb. table load capacity. The 6,000 RPM, 35 HP spindle has through the spindle coolant capability. Other machine features include a touch probe and tool presetter.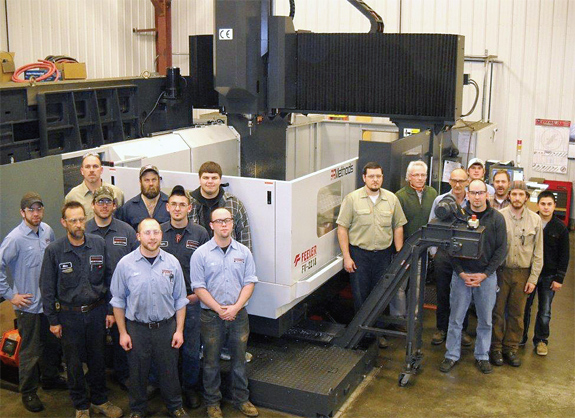 "The solution is working just as we planned," said Koutz. "We are now able to manufacture larger parts in a single set-up without having to perform multiple set-ups. We are also able to work with larger parts we could not even think of doing before having the FEELER. We recently doubled our sales, and a big factor was the larger mill capacity." To accommodate even larger parts, Integrity recently ordered its second FEELER Double Column Bridge Mill—the FV-3218. The FEELER FV-3218 has a table size of 118" x 67", and has a maximum loading capacity of up to 22,000 lbs. The company plans to install it in Q1 2014. In addition to the FEELER Bridge Mill, the Integrity Fab team recently acquired a Flow water jet with a table size of 60" x 120" and 94,000 PSI pump.Along with that they added Solid Works and Mastercam software for programming and downloading to the machines on the floor.
Integrity Fab offers a wide variety of fabricating, welding and machining capabilities . Typical materials machined at Integrity Fab include A36 steel, aluminum, steel castings, tool steels and weldments. The company manufactures die and mold details, aerospace components, military products, agricultural products and food industry components. Integrity Fab was founded in 2007 by Kirk Smith and Rollie Koutz, who had worked together from the 1980s and had a dream of owning their own shop. They recently moved their growing business into a new 17,250 sq. ft. facility.